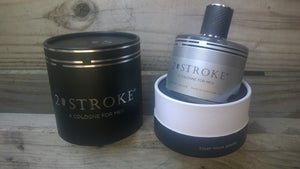 2-Stroke Brands
2-Stroke (International Version - No Alcohol)
Sale price Price $74.99 Regular price
This is a subtle yet powerful mix of scents reminiscent of the two stroke exhaust smell you get after chainsawing or snowmobiling in the woods for a full day.
When freshly applied, the top "note" or "accord" is similar to a fuel scent. The mid-note scent of oil is more pronounced between 20-45 minutes; the base notes of wood and smoke smells are more prevalent an hour or so after application.
Order is for one BLACK carton container and one GRAY 3.3oz (100ml) bottle of proprietary 2-Stroke Cologne conceived, formulated, mixed, and bottled in good 'ol Montana. This product is available throughout the world. It contains IPM (isopropyl myristate) in the formulation (instead of alcohol) so it can be shipped safely outside of the continental USA. Only available in GRAY BOTTLE.
If you live in the Continental US, you can choose between the Gray or Black bottle, or get one of each!
**IMPORTANT - International shipping and import TAXES!!
We currently ship via first-class US Postal Service (Priority and Global Express are cost prohibitive). Unfortunately, packages are tracked in some countries (e.g. Canada & Singapore) and not in others (e.g. Sweden). Delivery times have varied from one week to one month, as we believe the staff at the Duty and Tariff office are purposefully delaying shipments in order to enjoy the smell of the cologne. Orders shipped to a destination outside of the United States may be subject to import taxes or duties. As the recipient, you are the importer and must comply with all applicable laws and regulations. Exact import taxes and duties vary, depending on the destination country.